These stock are shipped from the United States Stock. It will be more faster and safer for US customers!
100% SATISFACTION GUARANTEE
For any reason,if you want to return the eyewear within 30days, we'll be happy to refund you. We offer a 100% money back guarantee on all purchase.
Product Dimensions
Lens Height-37mm
Lens Width-58mm
Bridge-13mm
Frame Total-128mm

Note

Compatible with the majority of spectacles on the market.

Lightweight and scratch resistant, easy to clip on to any regular glasses, not suitable for glasses which bridge is very thickness.
Improve your vision, reduce glare, and sharpen your eye sight.

UV400 Lens Technology, absorbing over 99% of harmful UVA&UVB spectrums.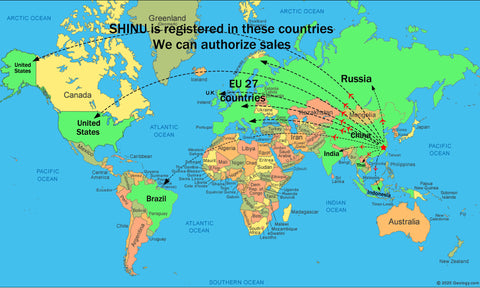 One introduction, three years rake! ​SHINU global agency and distribution plan. ​SHINU has been registered in major economies around the world, and we now provide drop shipping and brand authorization to all registered countries. Main products: prescription glasses for myopia, progressive multifocal glasses, polarized prescription glasses. ​Who can provide us with better local services? Optical shops, employees who have been working in optical shops for a long time, and those related to ophthalmology work, have the ability and conditions to understand customers face-to-face. We have good products, which will be the perfect combination. All SHINU old buyers can help us introduce this kind of person. We will give you a 3% commission based on the sales within three years of signing the contract. We are confident that every partner will be able to introduce this kind of person to you within three years. With sales of more than $100,000, you only need to take the lead in completing the initial communication. Get a commission of about three thousand dollars in three years. Please check www.shinueyewear.com get more information.

PACKAGE INCLUDED
1*clips on