SHINU EYEWEAR


Production Parameters
Model number: K2

Department: men and women

Frame material:acetate frame

Demension:

frame(145*43mm) lens(54*38mm) bridge(19mm) temple(145mm)
SHINU Smart Glasses Wireless Bluetooth Hands Free Calling Music Audio blue light Computer Glasses or Prescription Glasses
Intelligent Open ear Audio Bluetooth Glasses,fashion and easy-taking,wear comfortable. After connecting Bluetooth of mobile phone with Intelligent Bluetooth Glasses,you can call,listen to the music. It can let our ears more comfortable because we must not put its ear phone in our ears.

3D stereo sound effect.Bluetooth version 5.0+EDR+BLE.Start-up Siri.Use more convenient. When we use Intelligent Bluetooth Glasses to listen to the music, we can hear the voice of around that we can know around what happen. When we drive, we can also listen to the music,call others and hear the voice of navigation from mobile phone.

Open Ear Bluetooth Speaker:The smart sunglasses are designed with an open ear speaker, which allows you to listen to music, make phone calls without blocking out other sounds around you. It is safer to use when you are driving, cycling, running or walking on roads compared to in ear or over ear speakers

Calls, music, navigation:Integrated AI voice control gives you access to your navigation, phone calls, music, etc. without having to pull out your phone. Always be listening to your favorite tunes with 8 hours of music playback on a full charge

TWS and Latest Bluetooth 5.0 Technology:True wireless earbuds bluetooth 5.0 are equipped with the more stable Bluetooth 5.0 chip, which provides faster paring and universal compatibility.The built-in high-quality microphone of the wireless headphones can provide you with clear call experience

Sound directional transmission technology: The unique cavity frequency division technology can accurately project the sound to a specific area. Whether it is listening to music or making a call, only you can hear it, and almost everyone around you can't hear it. At the same time, you can also get the sound of the outside world, so that your safety is more secure.

Ultra-light Frame Material: It has a memory polymer material. The more it fits, the more it fits the user's head curve, and the comfortable clamping force can effectively reduce the head pressure. The glasses are equipped with a rigorous internal wiring process and a high-precision in-mold molding process to ensure high quality.

Amplifier Bluetooth Chip: Support Bluetooth 5.0 protocol, four times the transmission distance of Bluetooth 4.2, double the transmission speed; support Apt-X HD high quality audio; THD-N super distortion technology; 168 hours long standby.

With built-in 90mAh Polymer Battery, it offers up to 5 hours of continuous music and 3 hours of talking time, ensure you long lasting using time. easy control answering / ending calls, playing / pausing, previous / next songs.
If you need put prescription lenses together. please show your prescription to us first.  all lenses is blue light blocking.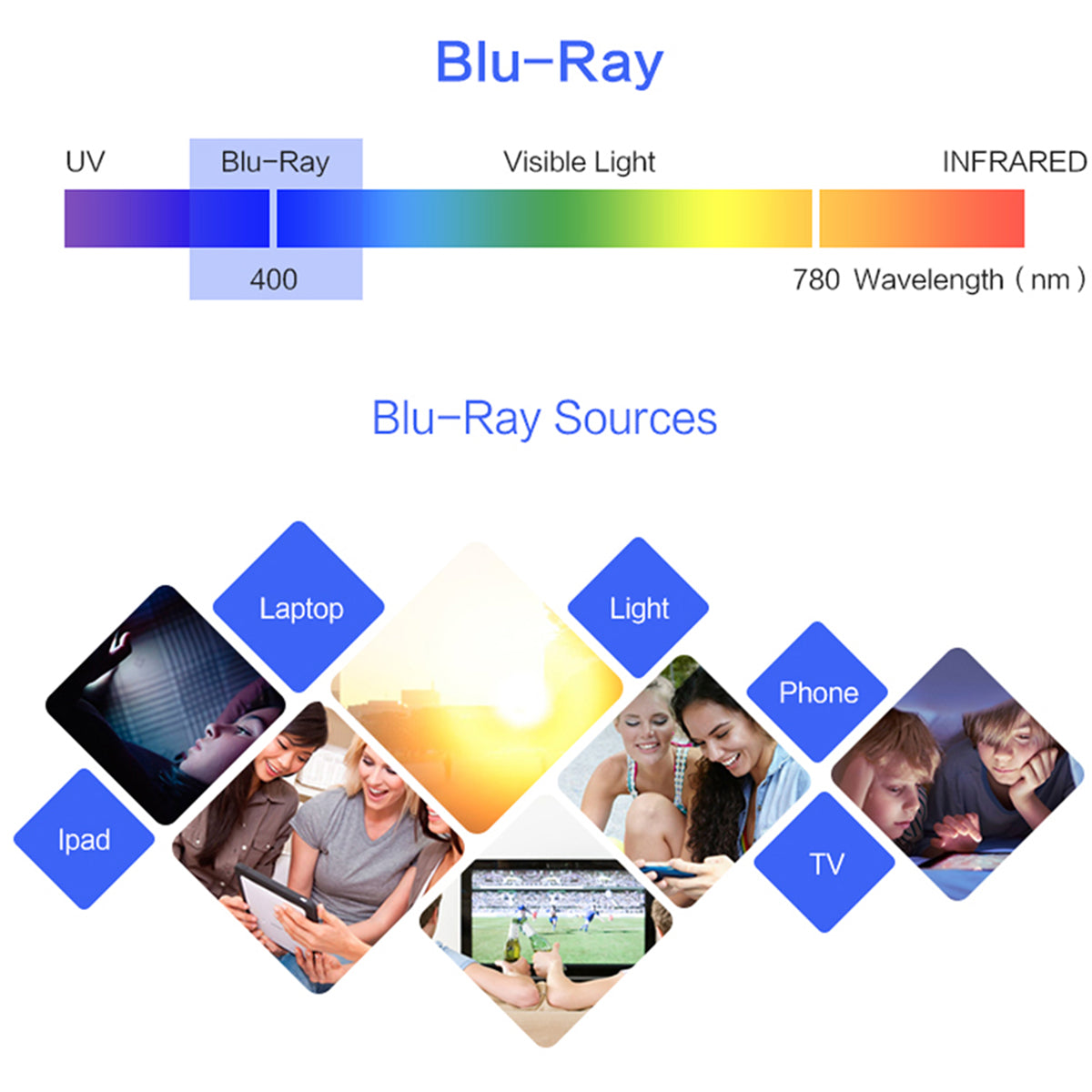 What is blue light?
The electronic products that people use every day, such as computers, smartphones, tablets, and TV LED displays, will send out a lot of blue light. With the popularity of these electronic product, everyone's chance to contact blue light is increasing dramatically. The wavelength of visible light is between 380-580 nm. High energy visible(HEV) light will damaging our eyes. It may lead to headaches, sore or tired eyes, terrible skin, stiff necks which affect your sleep at night. This includes damaging blue-violet light emitted by our digital devices. Therefore, for our normal people, a pair of anti blue lgiht computer glasses is necessary.
SHINU Anti Blue Light Lenses
​SHINU anti blue light lens is made of CR39. The refractive index is 1.60. Our anti blue light lens adopts German advanced technology (multi-wavelength nano-coating technology), adding high-grade anti-blue light material into the the inner layer coated with green film and the outer layer coated with blue film to ensure that our eyes can be protected from the ultraviolet light, radiation, and harmful blue light. The comprehensive protection is 20% more effective than the ordinary green coating film.
Detail
​
​
During the trial-wearing process of prescription glasses, it takes about a ​week to adapt. Some discomforts that begin to appear are normal, such as dizziness, eye swelling, distortion, etc. These symptoms usually disappear within two days. Anyone who wears glasses knows it. If you still cannot adapt within a week. Please contact our customer service. But it must be worn so that the eyes can adapt to the new frame.
One introduction, three years rake! ​SHINU global agency and distribution plan. ​SHINU has been registered in major economies around the world, and we now provide drop shipping and brand authorization to all registered countries. Main products: prescription glasses for myopia, progressive multifocal glasses, polarized prescription glasses. ​Who can provide us with better local services? Optical shops, employees who have been working in optical shops for a long time, and those related to ophthalmology work, have the ability and conditions to understand customers face-to-face. We have good products, which will be the perfect combination. All SHINU old buyers can help us introduce this kind of person. We will give you a 3% commission based on the sales within three years of signing the contract. We are confident that every partner will be able to introduce this kind of person to you within three years. With sales of more than $100,000, you only need to take the lead in completing the initial communication. Get a commission of about three thousand dollars in three years. Please check www.shinueyewear.com get more information.
Package
​1*glasses