SHINU EYEWEAR


Please kindly not that this is only clip on. There is no frame on it. You can use the clip on your own frame.
If you need the frames at the same time, then you have to buy the customized listing. Choose the one you need and then find one frame in my store, tell us what frame do you want. Please kindly know that different frames have different price. Titanium frame is much higher than the normal ones. The pics on the listing is just for reference.
color blind lens glasses
We suggest focusing on one colour at a time and remove and replace the glasses to see the difference. You may suddenly see some colours for the first time and other colours becoming richer with a warmer tone. Our color blind glasses can also be used indoors for television. use though it works with better results in a brighter environment.

The glasses are an optical assistive device; they are not a cure for color blindness. DO NOT endorse use of this product to pass occupational screening tests.

A special coating on the lens filters out light in a specific band, allowing color blinds to improve color resolution capability.

Red green color blind corrective glasses are suitable for fine arts and chemical construction design,allowing you to feel better and be more productive.

This color correction glasses can help you with your red/green colorblindness problems as well as color vision disorder and color weakness so that you can see this beautiful world you have missed out.

This makes a great and unique gift for people who have red green blindness that help them experience a life changing event.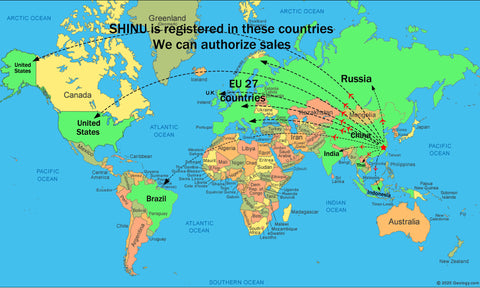 One introduction, three years rake!
SHINU global agency and distribution plan.
SHINU has been registered in major economies around the world, and we now provide drop shipping and brand authorization to all registered countries. Main products: prescription glasses for myopia, progressive multifocal glasses, polarized prescription glasses.
Who can provide us with better local services? Optical shops, employees who have been working in optical shops for a long time, and those related to ophthalmology work, have the ability and conditions to understand customers face-to-face. We have good products, which will be the perfect combination. All SHINU old buyers can help us introduce this kind of person. We will give you a 3% commission based on the sales within three years of signing the contract. We are confident that every partner will be able to introduce this kind of person to you within three years. With sales of more than $100,000, you only need to take the lead in completing the initial communication. Get a commission of about three thousand dollars in three years. Please check www.shinueyewear.com get more information.
Package
1*glasses