SHINU EYEWEAR
Production Parameters
Model number: SH054

Department: men

Frame material:metal


Demension:frame(135*35mm) lens(52*34mm) bridge(19mm) temple(142mm)
How to prevent myopia from deepening?

SHIINU has a good way! progressive is more suitable for young people
Myopia that can't be seen clearly in the distance, and single vision lenses can only correct it let see far clear. For most students or young workers, it takes more time to look close than to look far, but looking close does not same diopter . As a result, visual fatigue occurs, leading to deepening of myopia.
Any other brand has launched this kind of progressive lenses very early and took a nice name, anti-fatigue lens. Make the down area 75 degrees lower than the up area. It is ADD+0.75. I believe that the parameters of this ADD are formed on the basis of a large amount of data analysis, so most people (more than 50%) will have good results when using this lens. However, the high price makes it unacceptable for many people.
SHINU has well controlled the price of high-quality lenses. The price of lenses without astigmatism is only about one-tenth of the market price of mainstream brands, and freeform lenses with astigmatism are only about one-fourth, so many buyers are very excited after using SHINU EYEWEAR! While talking about the incredible, while complaining that some lens dealers make too much. In fact, we only did some supply chain optimization after market segmentation, which greatly reduced costs. We also have to make money. This is impossible for large companies and the old model.
HERE ALL ADD+0.75 Progressive lens for myopia . minus 500 minus 425. means see far -5.0 , see near -4.25.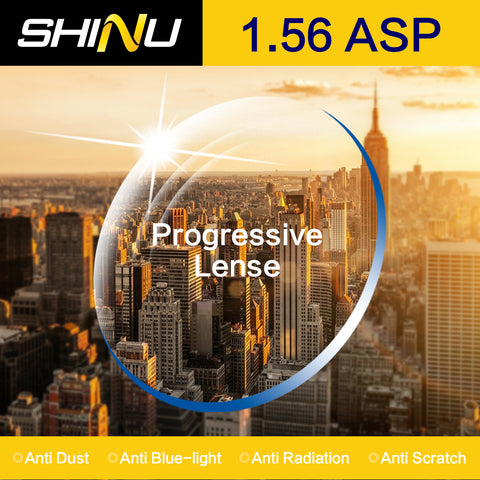 During the trial-wearing process of prescription glasses, it takes about a week to adapt. Some discomforts that begin to appear are normal, such as dizziness, eye swelling, distortion, etc. These symptoms usually disappear within two days. Anyone who wears glasses knows it. If you still cannot adapt within a week. Please contact our customer service. But it must be worn so that the eyes can adapt to the new frame.
NOTICE: if your eyes had astigmatism or higher degree, please order "customized degree" and leave your prescription to us.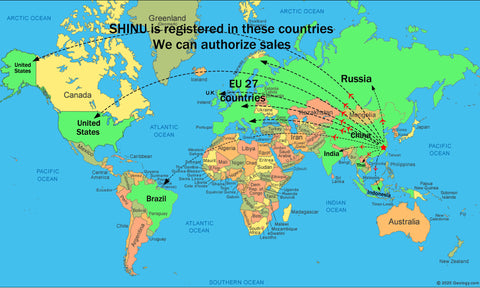 One introduction, three years rake!
SHINU global agency and distribution plan.
SHINU has been registered in major economies around the world, and we now provide drop shipping and brand authorization to all registered countries. Main products: prescription glasses
for myopia, progressive multifocal glasses, polarized prescription glasses.
Who can provide us with better local services? Optical shops, employees who have been working in optical shops for a long time, and those related to ophthalmology work, have the ability and conditions to understand customers face-to-face. We have good products, which will be the perfect combination. All SHINU old buyers can help us introduce this kind of person. We will give you a 3% commission based on the sales within three years of signing the contract. We are confident that every partner will be able to introduce this kind of person to you within three years. With sales
of more than $100,000, you only need to take the lead in completing the initial communication. Get a commission of about three thousand dollars in three years. Please check www.shinueyewear.com get more information.
Package
1*glasses